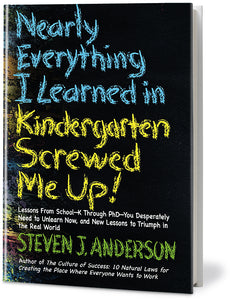 The Yes Bookstore
Nearly Everything I Learned in Kindergarten Screwed Me Up!: Lessons From School-K Through PhD- You Desperately Need to Unlearn Now, and New Lessons to Triumph in the Real World
Regular price
$19.95
$0.00
Unit price
per
Uncover the old and irrelevant that should be unlearned. Replace it with the new and highly effective. Follow specific, actionable instructions that bring immediate, positive results.
You will...
Master the fine art of interruption, in all situations,
Engineer respectful introductions to anyone,
Meet and learn from your ideal mentors,
Become your own P.R. agency,
Make your whole career a game to play and win,
Look-and-be-absolutely brilliant by asking great questions,
Gift yourself with life's sweetest rewards, yours and nobody else's.
The lessons teachers and professors never taught. It wasn't part of the curriculum. But that was then and there—in school—but School is Out!