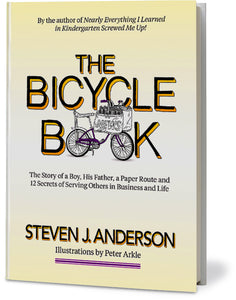 The Yes Bookstore
The Bicycle Book: The Story of a Boy, His Father, a Paper Route and 12 Secrets of Serving Others in Business and Life
Regular price
$19.95
$0.00
Unit price
per
Where people mean everything is exactly where you need to be to thrive and prosper in your career and your life. And it's exactly where The Bicycle Book takes you on two intertwining paths.
One is the author's fond, oftentimes funny tale of being a newbie paperboy at the tender age of twelve. Adventures in customer relations become lifetime lessons thanks to Steve's quirky, brilliantly pedagogical Dad, a top advertising executive given to Socratic Q&A dialoguing and mealtime family seminars.
Then, in prescriptive information for the here and now, the author takes you to "Where People Mean Everything" in a series of clear, eminently do-able lessons to...
Make your own unique service promise and hew to a high service standard,
Transform service glitches into wins with great recoveries,
Create loyal customers who are more than just satisfied,
Get reliable customer feedback and make the most of it,
Own all you're responsible and accountable for, no blame or complain,
Forget about giving and start doing good,
Elevate your outlook from just doing to being.
There's much more in story and instruction. It all comes together in final passages that bring the past vividly into the present. And a tear to the eye…